1
« on: January 06, 2012, 04:47:13 PM »
Muktiju
ddher Itiha
sh 1971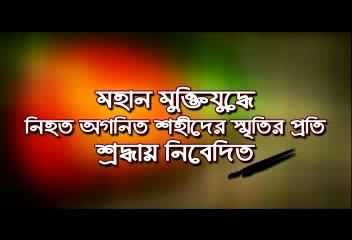 A documentary on the Liberation War titled, "Muktijuddher Itihash". The documentary was planned and directed by ATN Bangla Chairman, Dr. Mahfuzur Rahman.

The documentary sheds light on several facets of the war, some of which have not received wide exposure so far. Rare video footage of the war and moving stories from refugee camps have also been included.

The documentary was previously aired on ATN Bangla and received rave reviews from the audience nationwide.